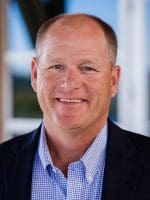 Seth Arndorfer, CEO of DCN (Dakota Carrier Network), has been reappointed as a working group member to serve on the Federal Communications Commission Precision Ag Connectivity Task Force.
Arndorfer will serve another two-year term on a Task Force Working Group. This term he will serve on the working group focused on examining current and future connectivity demand for precision agriculture. During his first term, Arndorfer was on the task force working group focused on broadband mapping on agricultural lands. Appointments are made by the FCC Chairwoman Jessica Rosenworcel in consultation with Secretary of Agriculture Tom Vilsack.
In addition to more than 20 years of professional experience in the broadband industry, Arndorfer's farming and ranching background help him bring a unique and valuable perspective to the task force.
"I was raised on a fourth-generation farm in southwestern North Dakota and understand the challenges facing agriculture today," said Arndorfer. "But I also see the great opportunities that arise when technology and agriculture work and grow together. It's an honor to be reappointed and exciting that DCN is contributing to these innovative efforts to help producers be more effective and efficient."