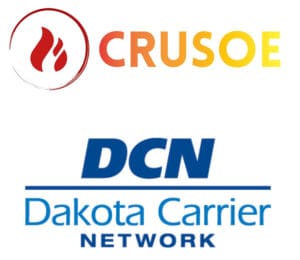 BISMARCK, N.D., March 31, 2021 – Dakota Carrier Network ("DCN") and Crusoe Energy Systems ("Crusoe") have collaborated to expand innovative networking solutions throughout North Dakota. DCN's 14 rural broadband providers and Crusoe established connectivity to extend a combination of fiber and wireless networking solutions across Crusoe's Digital Flare Mitigation portfolio, which captures otherwise wasted and flared natural gas to power modular data centers.
Crusoe operates throughout western North Dakota and eastern Montana. The deployment of data centers in these primarily rural areas has required the expansion of new networking infrastructure to support high capacity and low latency connectivity. Besides connecting Crusoe, the new infrastructure that DCN and its owner companies – particularly Reservation Telephone Cooperative (RTC) in Parshall and Northwest Communications Cooperative (NCC) in Ray – have deployed will benefit the communities they serve, bringing fiber-based high bandwidth, low latency connectivity to additional towns, farms and ranches, oilfields, and other industries in the region.
"What Crusoe is doing is good for everyone," said Seth Arndorfer, DCN CEO. "They are capturing flare gas and using it to power technology rather than letting it become a wasted byproduct and that success is allowing them to invest in the North Dakota, providing good jobs and supporting local organizations."
Crusoe employs several dozen individuals – many displaced from the oil fields – in roles such as mechanics, electricians, technicians, field technologist in microwave and fiber-optic solutions along with warehousing, management and more. Crusoe recently announced donations to several charitable programs that support Science, Technology, Engineering and Math (STEM) education across the state including uCodeGirl and Gateway to Science. They are also working toward a larger software engineering convention with non-profit partners, which may be announced later in 2021. In addition, Crusoe is supporting the Maah Daah Hey trail run. In fact, both of the company's founders, Chase Lochmiller and Cully Cavness, are ultra-distance runners and will attempt the full 106-mile trail run this July.
"North Dakota has been very welcoming to us," said Cavness, Crusoe's president. "The state's energy industry, government and communities have embraced Crusoe as a solution to the challenging problem of natural gas flaring. North Dakota really gave Crusoe our start, and we want to give back in ways that align with our values of innovation, environmental stewardship and personal growth. This is why we are donating to STEM education programs and community building activities like the Maah Daah Hey run."
"DCN is excited to partner with Crusoe because they are not only innovative, but their company values align with those of DCN and our owners," added Arndorfer. "This project benefits everyone: North Dakotans because of the positive economic impact, Crusoe can do business thanks to NCC and RTC's deep fiber investment, and the oil companies can reduce flaring. It's a win-win-win."