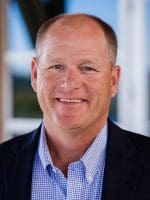 Seth Arndorfer, CEO of Dakota Carrier Network (DCN), was elected vice president of the INDATEL Services Board of Managers at the organization's fall meeting in Minneapolis.
INDATEL is a nationwide fiber optic network, comprised of 31 members that are statewide networks like DCN, dedicated to providing best-in-class connectivity to communities in rural and metro areas. INDATEL members partner to deliver connectivity services to businesses and government entities that have a broad footprint. For example, if an organization in another state needs connectivity in North Dakota, INDATEL works with DCN to deliver services to the customer's specific location(s).
"Our partnership with INDATEL not only enhances DCN's visibility on a national scale, it also helps us offer industry-leading products and user experiences for North Dakota businesses and government entities," explains Arndorfer.
The INDATEL seven-member Board of Managers is elected from the member companies around the United States. The board establishes the network's strategic direction by assessing the connectivity needs of communities it serves and creating opportunities to bring fiber to underserved and unserved populations. As vice president of the board, Arndorfer provides leadership including filling in as acting board president as needed. Arndorfer was first elected to the board in 2018.
"It was a landslide approval in appointing Seth as the board vice president," said INDATEL CEO Mel Wagner Jr. "I couldn't be more pleased with the selection and continuing to work with Seth in a board officer role."