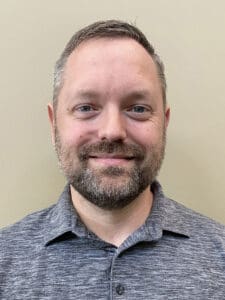 Branden Rasmussen has been hired as cloud services specialist at Dakota Carrier Network (DCN), based in the Bismarck office.
In this position, Rasmussen serves as the subject matter expert for all DCN cloud services. He designs, implements, and maintains the software and hardware platforms in DCN's cloud services infrastructure. He also acts as an internal IT resource for DCN and plays a key role in resolving issues with DCN internal systems, identifying and implementing new technology as needed, and ensuring systems are current and follow best practices.
Rasmussen joins DCN with more than 20 years of experience in the information technology field. He earned an Associate of Applied Science, computer support specialist, from Bismarck State College and completed additional coursework at Dickinson State University. Rasmussen holds a variety of active certifications: VMware Certified Professional – Data Center Virtualization, Microsoft Certified Systems Administrator, Microsoft Certified Professional, CompTIA A+, CompTIA Network+, CompTIA Server+, and Allworx Certified Technician.