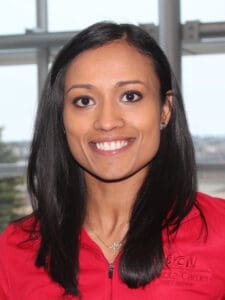 Aparna Subramanian, information systems manager at Dakota Carrier Network (DCN), has earned the prestigious CISSP certification.
The Certified Information Systems Security Professional (CISSP) is one of the most globally recognized certifications in cybersecurity. CISSP validates a cybersecurity professional's deep technical and managerial knowledge and experience to effectively design, engineer, and manage an organization's overall security posture. Created by the International Information Systems Security Certification Consortium (ISC2), earning this vendor-neutral, accredited certification requires both practical knowledge and professional experience. The extensive exam covers the areas of access control systems and methodology, business continuity planning and disaster recovery planning, physical security, operations, security, management practices, telecommunications, and networking security. Other areas important to the CISSP certification are cryptography, security architecture application and systems development, law, investigation, and ethics.
In addition, following successful completion of the exam, individuals must subscribe to the consortium's Code of Ethics and have an endorsement from another ISC2 professional who can verify their professional experience.
"This certification is rigorous," says Seth Arndorfer, DCN CEO. "The coursework is extremely challenging and the required endorsement by another member adds a layer of integrity to the process. This demonstrates Aparna's hands-on cybersecurity experience and can give DCN customers additional assurance that when they partner with DCN their data is secure."